PrescribeIT® integrates seamlessly into electronic medical records and pharmacy management systems, enabling prescribers to electronically transmit prescriptions to pharmacies. PrescribeIT® includes: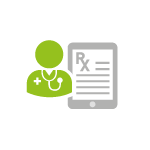 Create Rx
PrescribeIT® creates a net new prescription.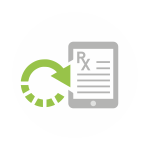 Renew Rx Request
Pharmacists can send a renewal request to the prescriber and, if approved, the prescriber sends back a new prescription.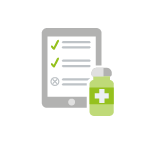 Rx Status
The prescriber will be able to see if their prescription has been dispensed or the dispense has been cancelled.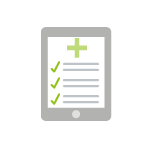 Public Drug Formulary
Prescribers will have integrated access to public drug formularies to ensure drug coverage in advance of prescribing.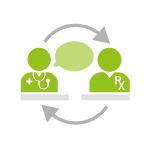 Clinical Communication
Secure messaging functionality between prescribers and pharmacies supports improved collaboration.
PrescribeIT® Features
Patient-directed. Prescriptions are transmitted directly to a patient's pharmacy of choice.
Deferred transmission. If patients are unsure which pharmacy they want to go to, or if their pharmacy of choice is not PrescribeIT® enabled, a copy of the prescription is sent to PrescribeIT® without being directed to a particular pharmacy. The prescription information can be retrieved by a PrescribeIT®-enabled pharmacy when the patient presents the authoritative paper copy of the prescription containing a unique barcode. Non-PrescribeIT®-enabled pharmacies can simply use the paper copy of the prescription as they would normally.
Rx dispense notification. Rx dispense notifications are sent to EMRs when a PrescribeIT® medication or non-medication order has been received and processed through a pharmacy system.
Rx dispense cancel notification. In the event a prescription delivered through PrescribeIT® is not picked up by the patient and is cancelled in a pharmacy system, a cancel dispense notification will be sent to the prescriber's EMR.
Prescription Cancel. Prescribers can cancel a prescription that has been electronically transmitted from an EMR to a specific pharmacy through PrescribeIT®. Upon receiving a cancel prescription message, the pharmacy can send one of three responses back to the prescriber depending on the action the pharmacy has been taken on the prescription.